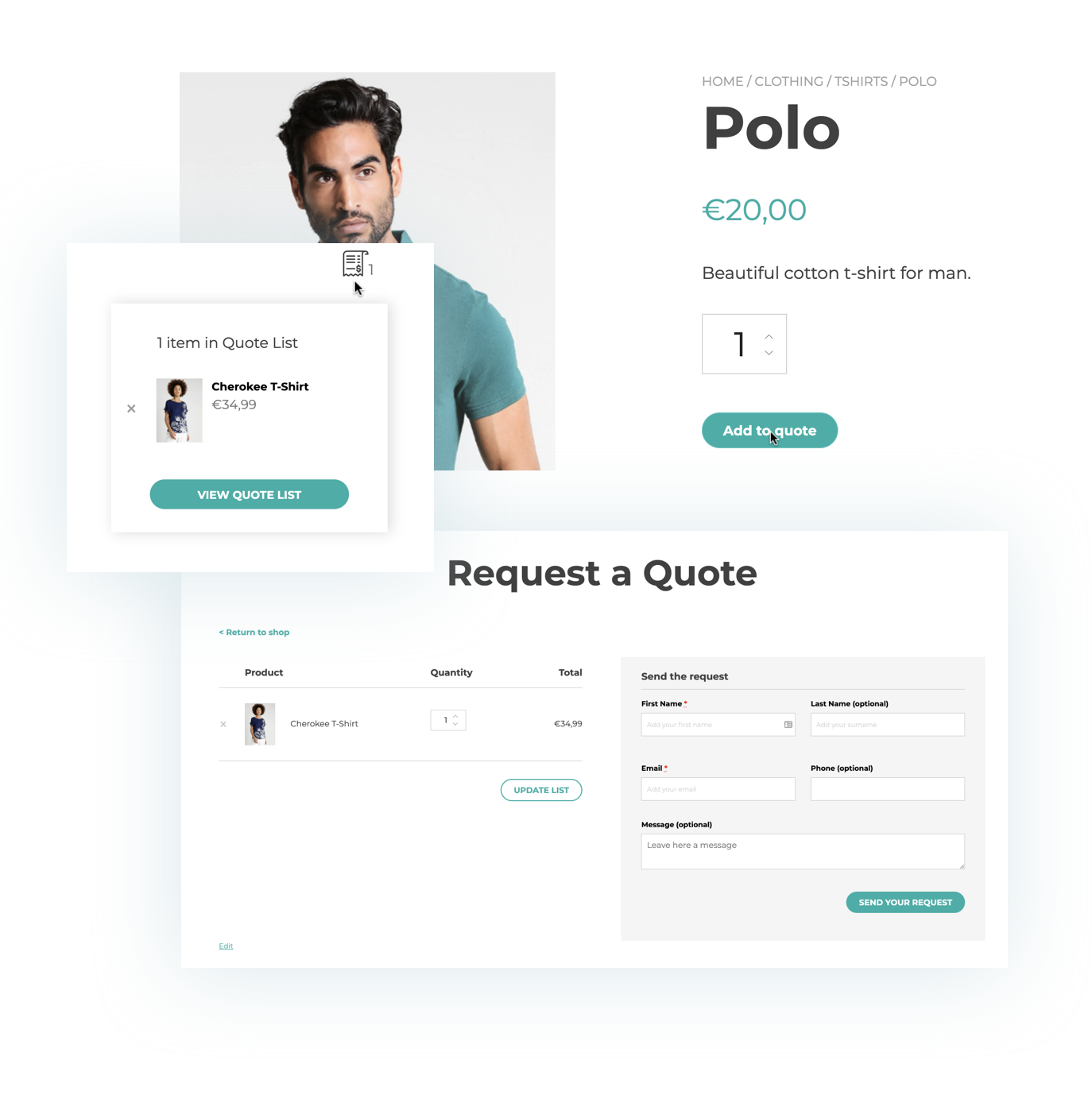 The complete solution to empower your customers to ask for a custom quote for the products they are interested in.
Many shopkeepers sell goods or services for which a label with price is not enough.
For off-the-shelf or customized items, for which big quantities of the same product might be purchased, a buyer usually prefers to get in touch with the supplier to negotiate an ad hoc price solution. A quote request is a channel that allows that kind of negotiation, that otherwise is difficult to achieve in online shops.
YITH WooCommerce Request a Quote it has been explicitly conceived to grant a communication channel between customers and suppliers, going beyond those traditional — and sometimes restrictive — e-commerce platforms where you can show a custom price for a single product only, no way to quote multiple products at the same time.
One of the main issues of online shopping, that is, communicating and negotiating with potential customers, might be solved by simply using a quote request form.
Our plugin allows displaying an "Add to Quote" button or link on your product pages. Customers can add products to a list, fill the form and then submit a request for a custom quote.
It is also possible to hide the "Add to cart" buttons to encourage customers to get in touch with the suppliers: in this way you can hide prices for wholesale or retailers and provide competitive custom prices based on their needs. It is right here that the very negotiation occurs.
Choose WHERE to show the "Add to quote" button
You can choose to activate the "Add to quote button" on all your product pages or on specific products, categories or tags only. You can use the built-in exclusion list to set where to show or, the other way round, where to hide the quote button and show it only on product pages or also in the WooCommerce shortcodes (like the Shop page etc.). If you want to, you can activate (or deactivate) the quote option only on out-of-stock products: the plugin is so versatile and it offers almost unlimited configuration options.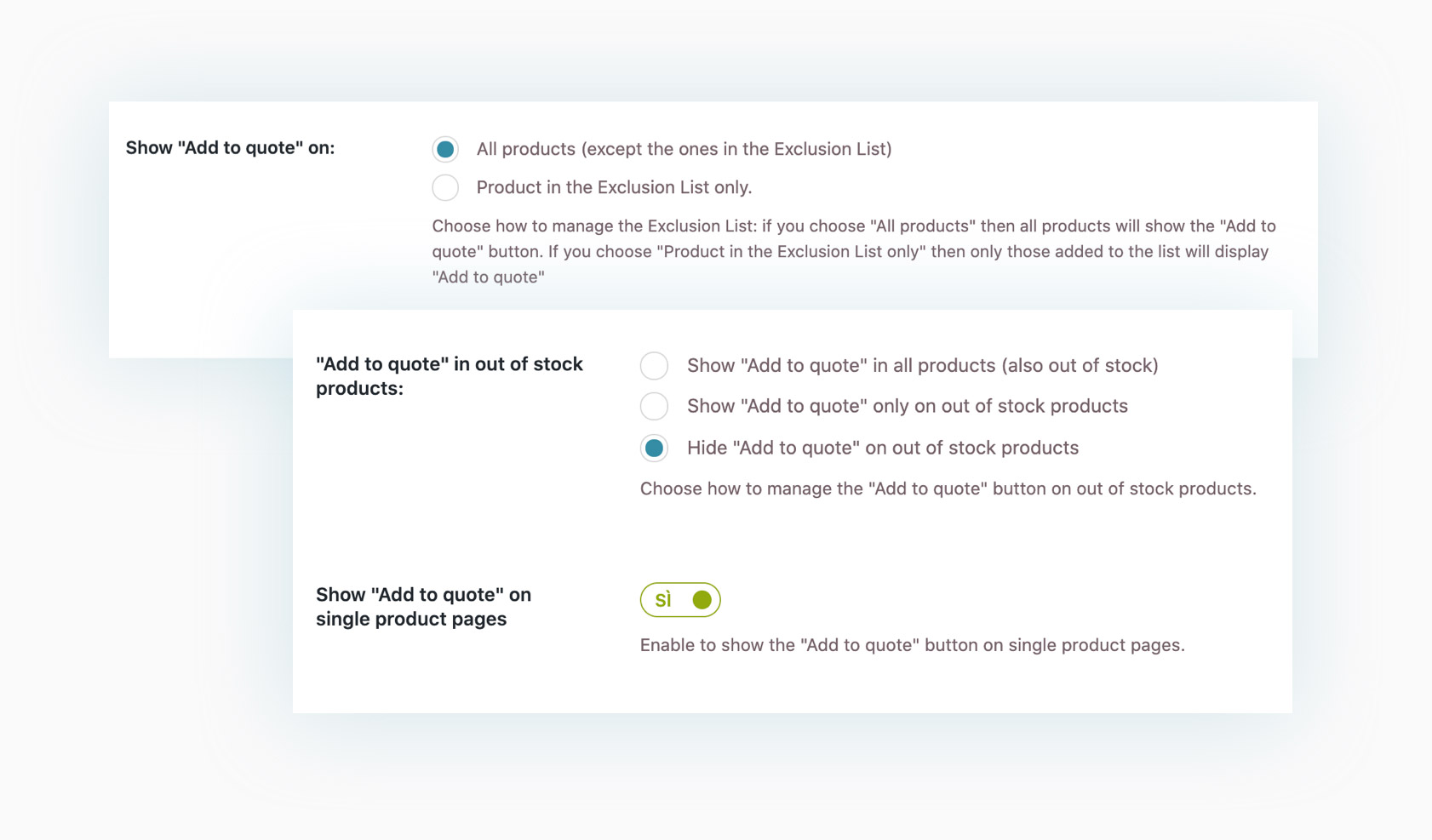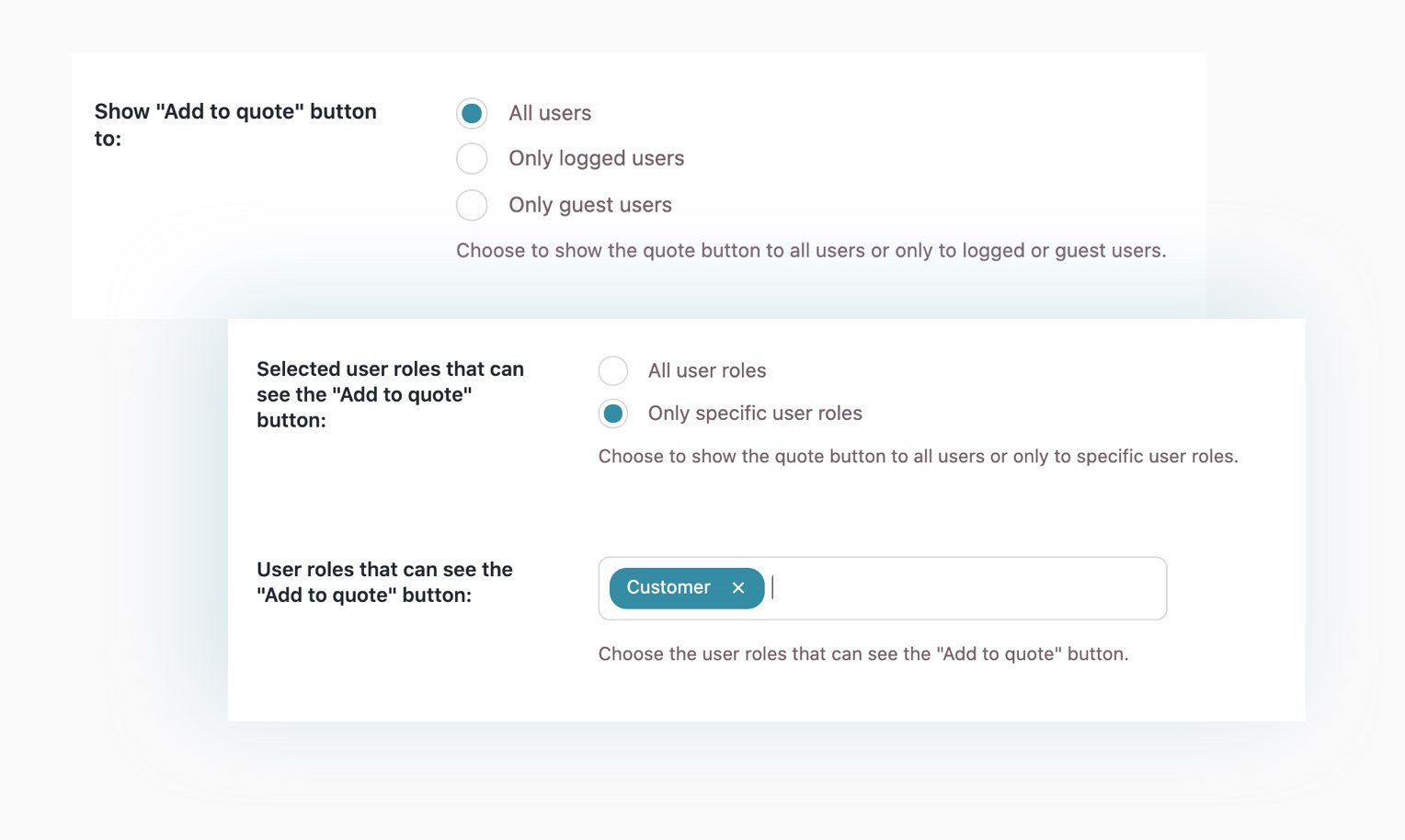 Choose WHO will see the "Add to quote" button
Choose whether to show the "Add to quote" button to all your users or hide it to guest users (those who haven't registered yet or who haven't logged in). You can also enable the quote request option only for certain user roles of your choice.
Customize the button colors and texts
Choose whether to show a text link or a proper button and set up every detail related to the style, like the text, the position, or the colors, to make sure it totally suits your shop layout.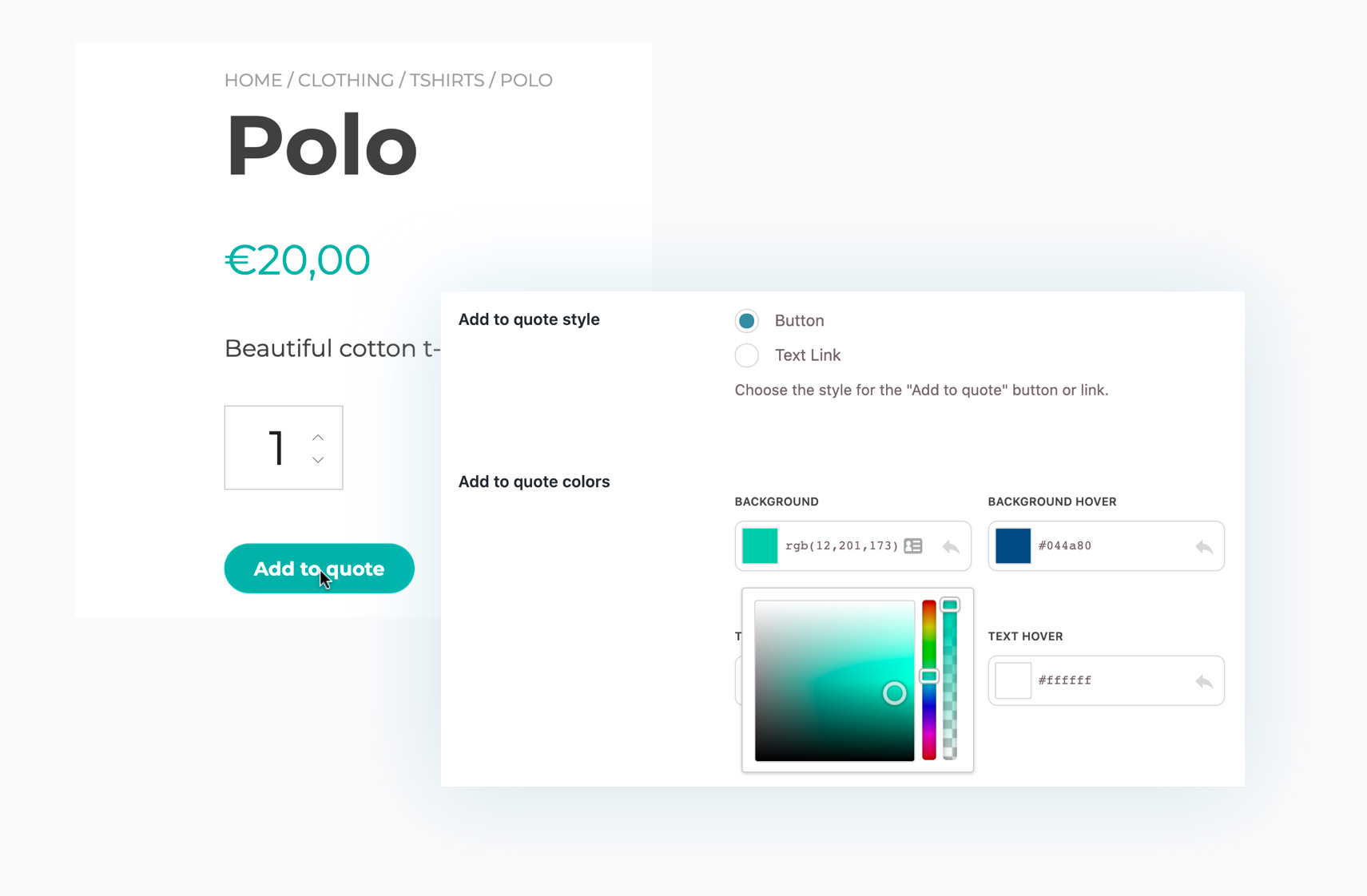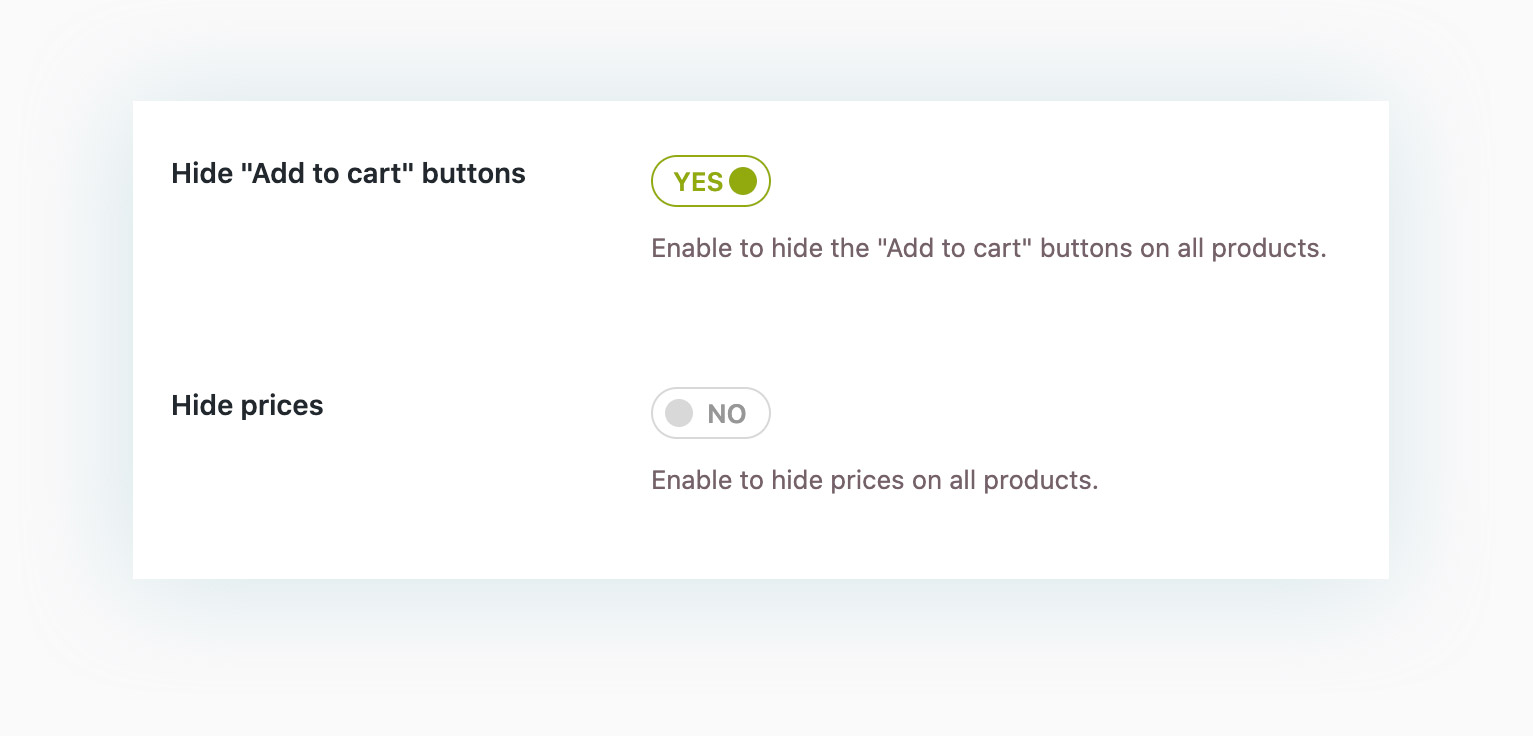 Hide the product price and the "Add to cart" buttons
Hide the price from all your products together with the Cart button if you want to enable the quote request option on the entire shop and make sure your users contact you to know about the product price. Just two clicks to transform your e-commerce store into a product catalog!