What does the Video SEO plugin do?
The Video SEO plugin automates technical SEO for video to improve your video's performance and findability. Here's what's included:
Helps Google uncover your video by using Schema.org structured data videoObject markup
Ensures faster loading times for your pages by utilizing asynchronous JavaScript for video delivery
Responsive sizing so your video scales seamlessly for all screen sizes
Ensure that video previews appear properly any time someone shares your page on Facebook or Slack, through added OpenGraph tags
Include custom thumbnails for all your video results in search, and preview how it will look before publishing
Automatic XML Video sitemap generation, adding on to the XML sitemaps generated by Yoast SEO
MediaRSS enhancements to your RSS feed
Includes support for many major video platforms, including Youtube, Vimeo, Wistia and VideoPress.
All these features combined make the Yoast Video SEO plugin a must-have for the video blogger using WordPress!
Google's video carousel result
Want your videos to show up in Google's video results? This is what a video carousel looks like: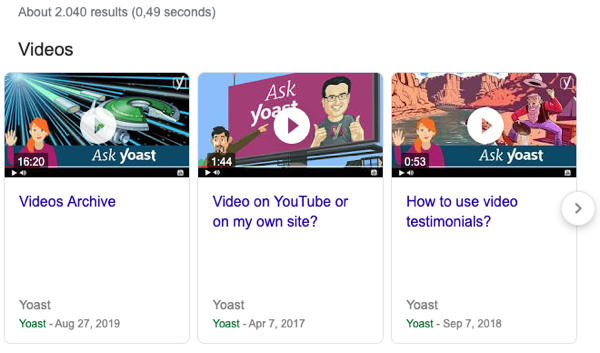 How cool is that! And it's very easy too! If you use the Video SEO plugin, the only thing you have to do is embed the video. After that, you add meta descriptions and good titles to your videos and choose the right tags and categories. That's all!
Getting great results for your site in the video search results in Google is just as easy. Simply add the video, title, and description and you are good to go!
Get your videos in the search results!
Get this plugin and make your videos eligible for Google's video carousel and the Google Video tab search results
Or cover all of your SEO bases now by having a look at the Yoast subscription plan!
Requirements for the Video SEO plugin
Do make sure you use oEmbed or a shortcode from one of the supported plugins — see below for the list. Also make sure that you use one of our supported platforms (YouTube, of course, is among them, but we generally advise people to use Wistia or Vimeo).
In order to let your videos rank with our Video SEO plugin, you'll need the Yoast SEO plugin as well, as the plugin relies on that plugin's capabilities for XML Sitemaps, Facebook OpenGraph, and more.
Getting started
Make sure to have a look at the installation guide, configuration guide, and FAQ. This will give you a feeling of just how easy it is to use this plugin. The changelog will also give you an idea of all the changes going into the plugin.