Luck favors the bold. Let's offer that opportunity to your potential customers in the form of OptinSpin. Our engaging and fascinating plugin helps you to convert your visitors into subscribers and customers. Based on the classic wheel of fortune, your customers will have fun trying their luck while you generate genuine leads and email databases for further marketing campaigns.
With endless customization options and fully integrated with WordPress, WooCommerce, and Easy Digital Downloads Coupons, OptinSpin is a flexible and leads-magnet tool for any digital business. Plus, our user-friendly interface and drag-and-drop functionality mean you can get started quickly.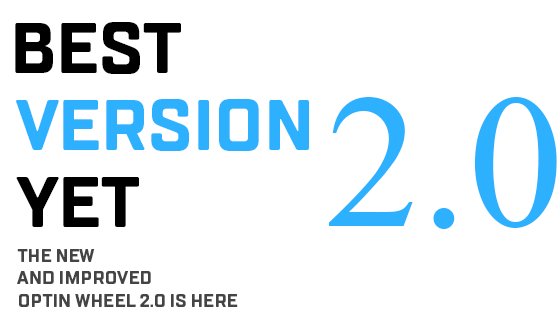 5 EASY STEPS TO CREATE YOUR OPTIN SPIN AND MAKE IT LIVE
Step #1 Enter Your Wheel's title:
Different businesses have different kinds of communication tones according to their brand positioning. With this field, you can make your desired title to grab the attention of your potential customers.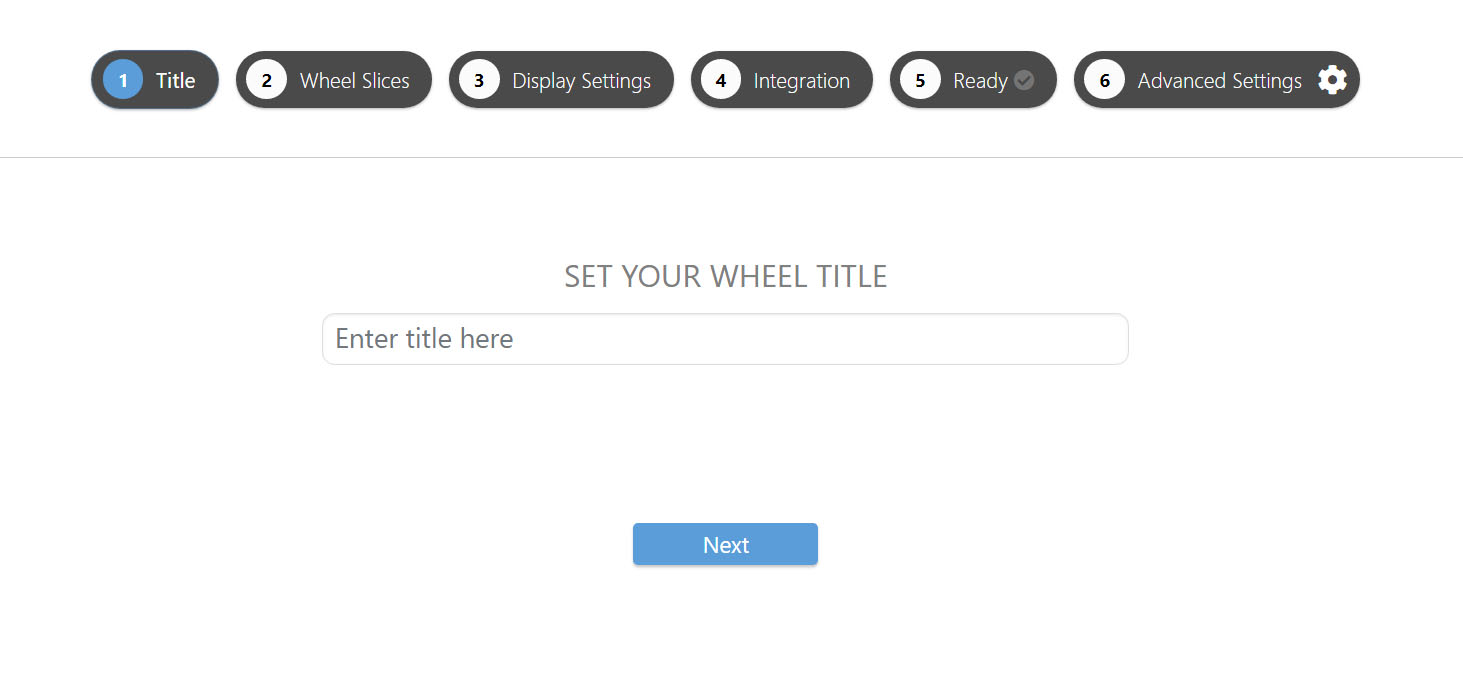 Step #2 Set the prizes for each slice:
Optin Spin plugin gives you complete control to set prizes and wheel outcomes. While knowing the customer's psyche, you can set your giveaways according to your business.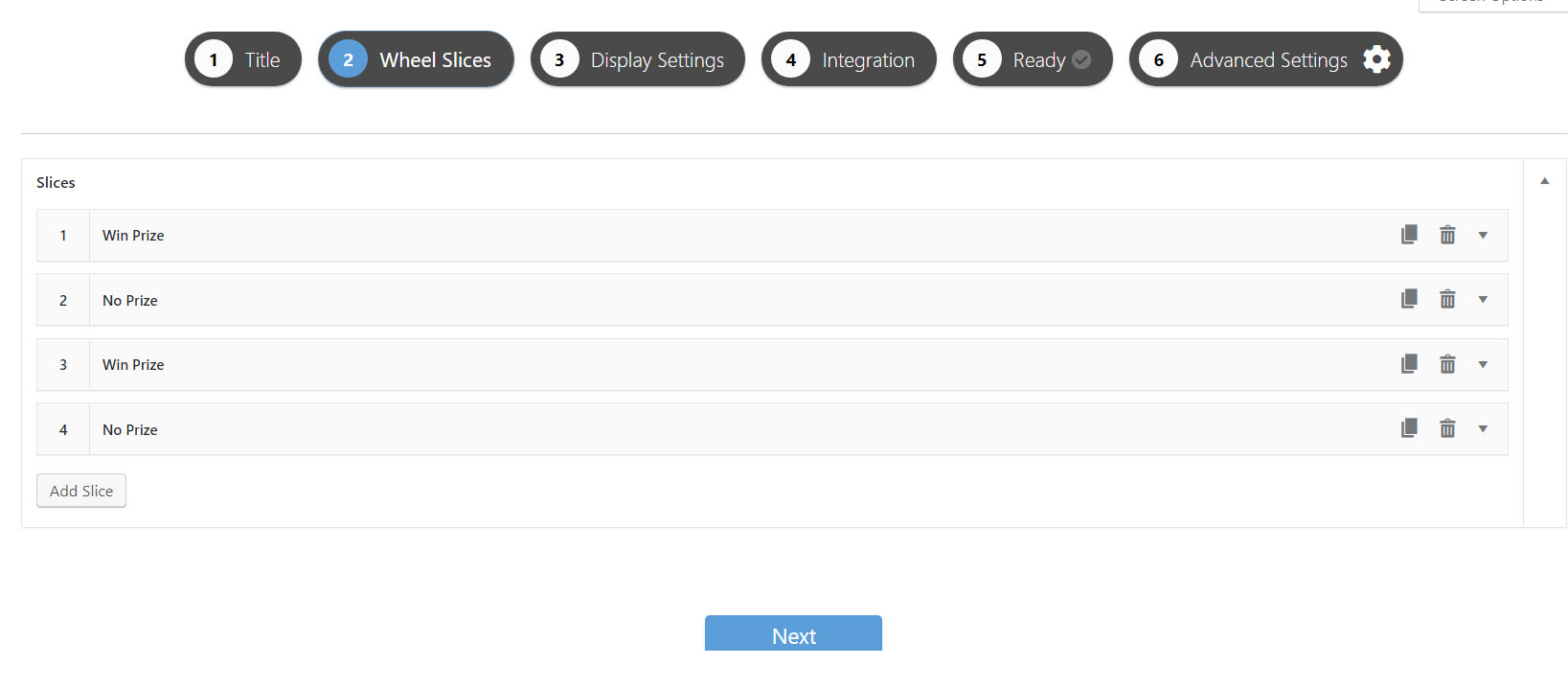 Step #3 Adjust your display settings:
A visually attractive wheel can increase the chances of going visitors to get engaged with the activity. You can adjust colors to make it more eye-grabbing for visitors. Few animation effects are also available like Snowfall for a seasonal feel.

Step #4 Integrate with the program of your choice:
Optin Spin provides you integration facility with your program of choice. You can use engaged user data to further marketing and forecasting purposes as well. Some of the really popular programs you can integrate Optin spin are Mailchimp, Remarkety, Active Campaign, Mailster, Zapier, and many many more.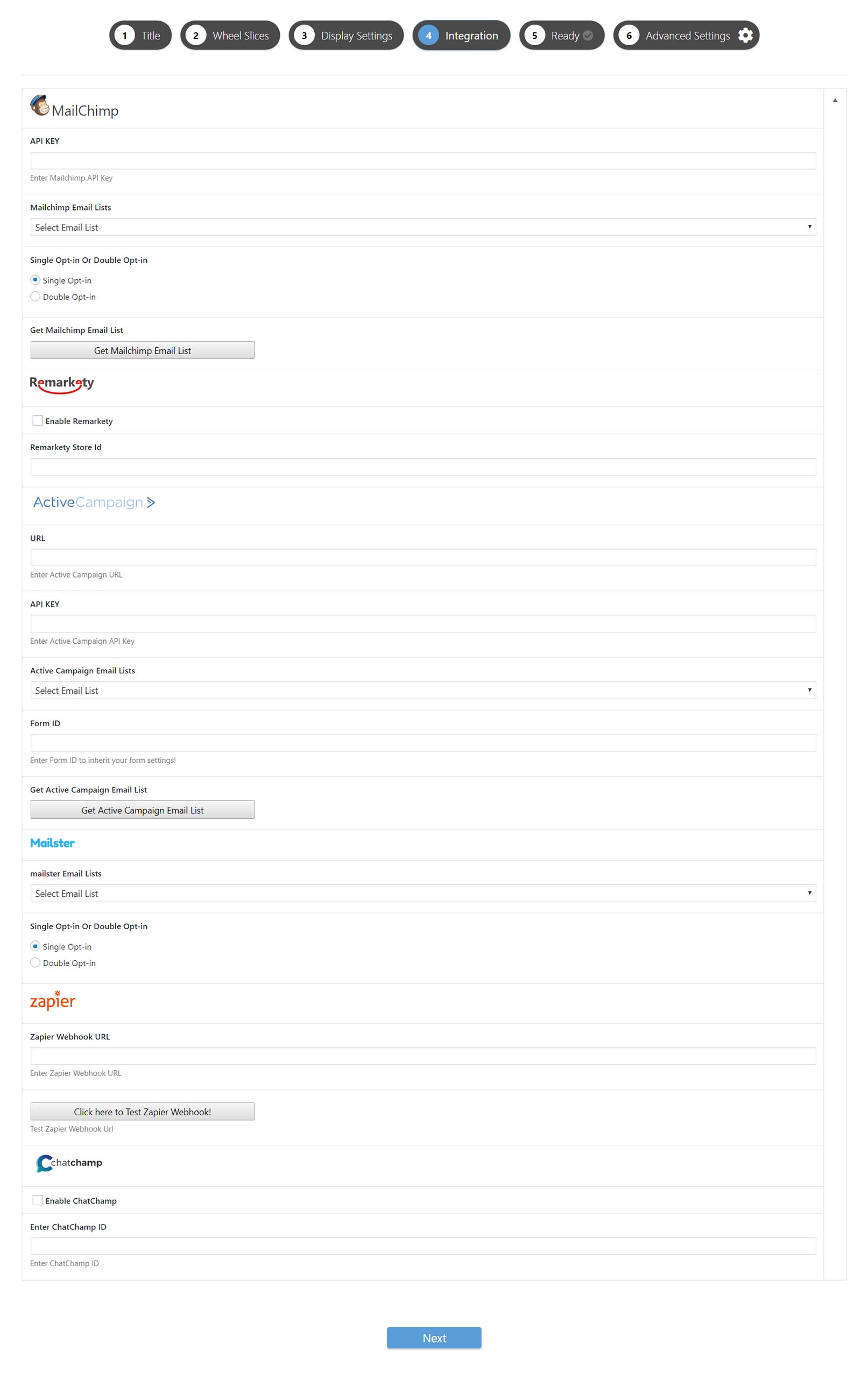 Step #5 Send your Wheel Live
Finally, you can send your wheel 'live' in this 5th and last step. See how easy it is. We wish you all the luck with your business.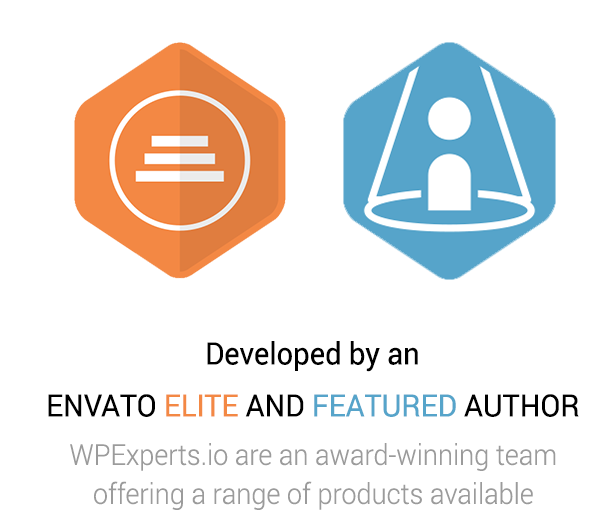 CUSTOMIZE OPTINSPIN WITH EASE
Designed with individuality in mind, OptinSpin offers endless customization options to ensure the wheel looks great on your website and matches your branding while performing exactly the way you want it to.
You can customize the visual appearance of Optinspin with useful settings options in admin panel like colors, text, and theme (Snowfall).
You can add as many wheel segments as you want in OptinSpin.
Set the probability for each section and winning-losing ratio for playing users.
Add your own business logo to the center of the wheel.
OptinSpin gives you options for email templates customization as well, you can design two different types of outcome emails, one for winner and other for users who aren't fortunate enough.
Generate unique coupons to offer it winning users through integrated WooCommerce.
You can customize the visuals and functionalities of the generated redeemable coupon.
Enable or disable sound effects while the wheel is spinning.
Enable or disable a party popper effect for winning users.
Offer free shipping instead of a coupon or no-win.
Set a time delay for OptinSpin to appear on your website.
Choose where to display the wheel including slider, sitewide or specific pages options.
Include an urgency bar on the site footer after winning with a timer counting down to the coupon's expiration.
Add a privacy link for users to get familiar with terms and conditions.
Add class to any link, call to action or button with desired functionalities.
Password protection is also available for users with access only can play it.
CHOOSE FROM MULTIPLE TRIGGER OPTIONS:
OptinSpin offers various triggers including:
Time Delay – Set the time you'd like OptinSpin to appear on your site.
Clickable Tab – Give customers the option to use OptinSpin via a clickable tab displayed at the bottom of your page.
Desktop Exit Intent – Trigger OptinSpin when it seems as though a visitor is about to leave your site when on a desktop computer.
Mobile Exit Extent – Trigger OptinSpin when it seems as though a visitor is about to leave your site when on a mobile device (based on scrolling behavior).
GET INVALUABLE USER INSIGHT:
Track who is playing OptinSpin, courtesy to advanced analytics. OptinSpin provides you with complete details including users' IP addresses, whether they won the game and which coupon they received.
INTEGRATE DIRECTLY WITH OTHER TOOLS AND PLUGINS:
To make your life even easier, OptinSpin connects directly to your MailChimp, Mailster, Remarkety, Zapier or Active campaign account, keeping your contact lists streamlined.
EVEN MORE REASONS TO CHOOSE OPTINSPIN:
We've left no stone unturned to ensure OptinSpin checks all your boxes. Other invaluable features include:
Fully Responsive – OptinSpin was built with mobile users in mind. Your wheel will look and function perfectly on any device.
WPML Support – Get your wheel translation ready. This feature gives it more regional feel for the player.
myCred Points Support – You can set reward points for each slice in the front-end.
Plus, OptinSpin offers other handy functions, such as the ability to:
Share download links on winning.
Share custom coupon text on winning.
Link WooCommerce coupons dynamically.
Password-protect the wheel so that only someone with the password can play.
Set IP-based restrictions to limit the number of times someone can play.