The Lightroom Addon for Envira Gallery let's you easily create beautiful Envira galleries from your Lightroom collections. We'll show you how! This walk through guide will show you how to set up your Lightroom to immediately publish your collections to your Envira gallery.
---
Requirements
Installation
Please follow our instructions on how to install and activate addons.
In this instance, you'll be activating the Envira Lightroom Addon.
Lightroom Addon Setup
If you haven't already, you'll need to also install the Envira Lightroom (Adobe) Addon on your computer.
Once you've installed both pieces of Envira Lightroom, head over to the Lightroom tab from your WordPress admin » Envira Gallery » Settings and click on the Lightroom tab.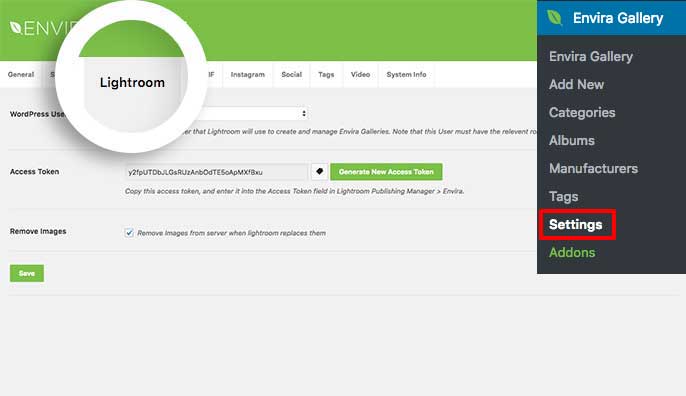 Step 1 – Choose the WordPress User
Select the WordPress User from the dropdown. This user must have the administrator role.
Step 2 – Generate New Access Token
Next, click Generate New Access Token button. You'll want to copy this token as we'll need this in Step 5.
Step 3 – Select your image removal option
The next option is optional. The Remove Images option just removes the images from your server if they've been edited and re-published.
Let's say you've published a collection already but want to edit your images. If you re-publish the collection, this option would remove that original published image and replace it with the new edited image. Simply check the box if you would like these original images to be deleted from your server if they've been replaced with an edited version.
Step 4 – Save your settings
The last step for the Lightroom tab is to just click Save to save these settings.
Step 5 – Enter the access token and WordPress URL in Lightroom
To complete the setup, just copy the Access Token from the Lightroom tab and open the Adobe Lightroom software.
Next, right-click on Envira from the Publish Services section and choose Edit Settings.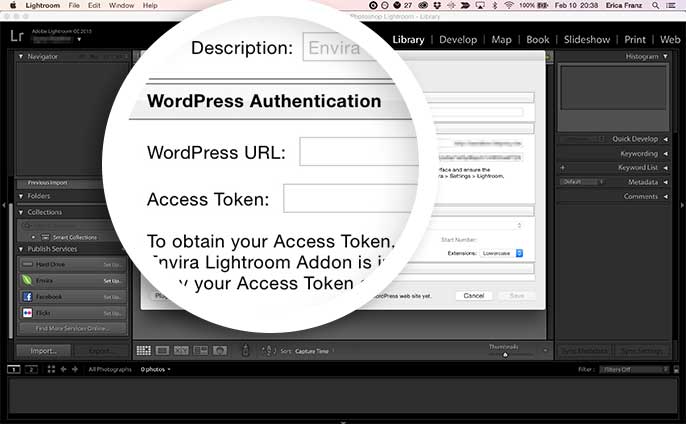 Click the Authenticate button. If authentication was successful, an on screen message will be displayed.