Facebook Reviews
widget for website.
Why do I need Elfsight Facebook Reviews?
More reliable reviews. Better social trust.
Increase trust by showing real people's reviews
Uphold the trustworthiness of your testimonials using a reputable business platform whose prominence is trusted by lots of people.
Grow sales demonstrating your excellent rating
Show your rating with feedback from Facebook on your product pages and increase sales
Attain more positive customer reviews
The "Write a review" button encourages people to post a new review. Using it, your visitor can open your business page in a click
Join 1,078,753 customers already using Elfsight Apps
You can start with creating your first Elfsight Facebook Reviews widget for free.
What makes Elfsight Facebook Reviews special?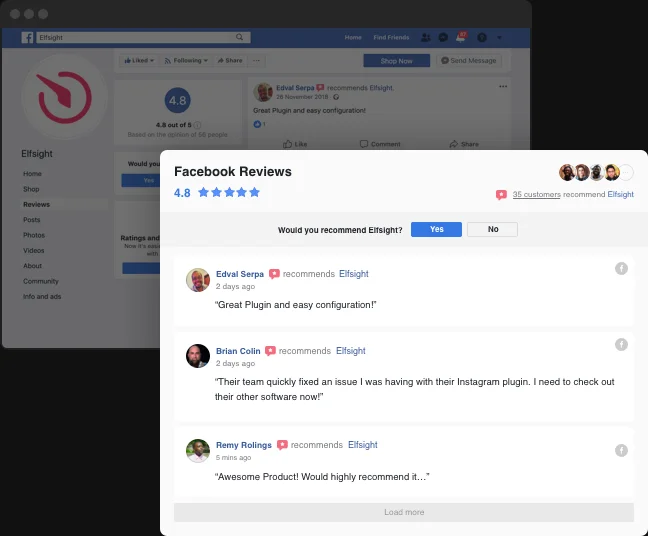 DEMONSTRATING FACEBOOK REVIEWS
Get your Facebook reviews do the job on your website
Increase the reach of your Facebook reviews and integrate them into your website. Elfsight Facebook Reviews widget will help you embed your detailed reviews with author's name, photo and a link to your Facebook account for fast redirect of clients. That's a perfect way to prove your brand reliability! You can filter your reviews to show only the best of them, change text settings, add ratings and more. Automatic updates will ensure no new review is missing on the website.    
Learn more
With the help of Exclude filter, I can display relevant reviews for each of my products separately.
FLEXIBLE HEADER
Show your social proof. Achieve full trust.
With Elfsight Facebook Reviews widget, you've got everything to prove your website visitors that you are a popular and reliable partner. The header of the widget features star rating, which is one of the most trusted by users. It also shows the total number of people who recommended your page with their pictures, and these elements are clickable and redirect user to your Facebook page. Full transparency, that's what makes you grow customer trust.   
Learn more
That's great that I can boast my high Facebook rating on the website, too. With Elfsight widget, it's clearly seen on the header!